The Fannish Friday 5
*alerta* frivolidad geek desplayandose
1. What was the last tv episode you watched?
- Duh - Smallville: Relic (repetido). Pongo aqui mi muy sentido
*sniff*
de que no hay episodio nuevo hasta el 14 de abril.
*sniff*sniff*
2. What was the last fannish conversation you had and who was it with?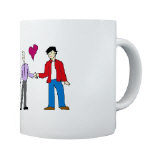 Explicando mi tazita eslashera Clark/Lex a mi jefe. Ey, se rio buen rato, otra prueba que el tipo tiene sentido del humor.
3. What was the last fannish list discussion you participated in?
Tremenda discusion entre eslasheras de Harry Potter sobre autocensura y diversidad de kinks. No, no quieres saber.
4. What was the last fannish lj entry you read/commented on?
Deje un
comentario
confirmando que littleclark es visible en el episodio "Extinction". ¿Que?
5. What was the last fanfic you read?
Estoy leyendo este fanfic de Harry Potter que para mi gran sorpresa me tiene clavada.
The Lodger
de MadMartha.